The first name necklace: a new trend around your neck!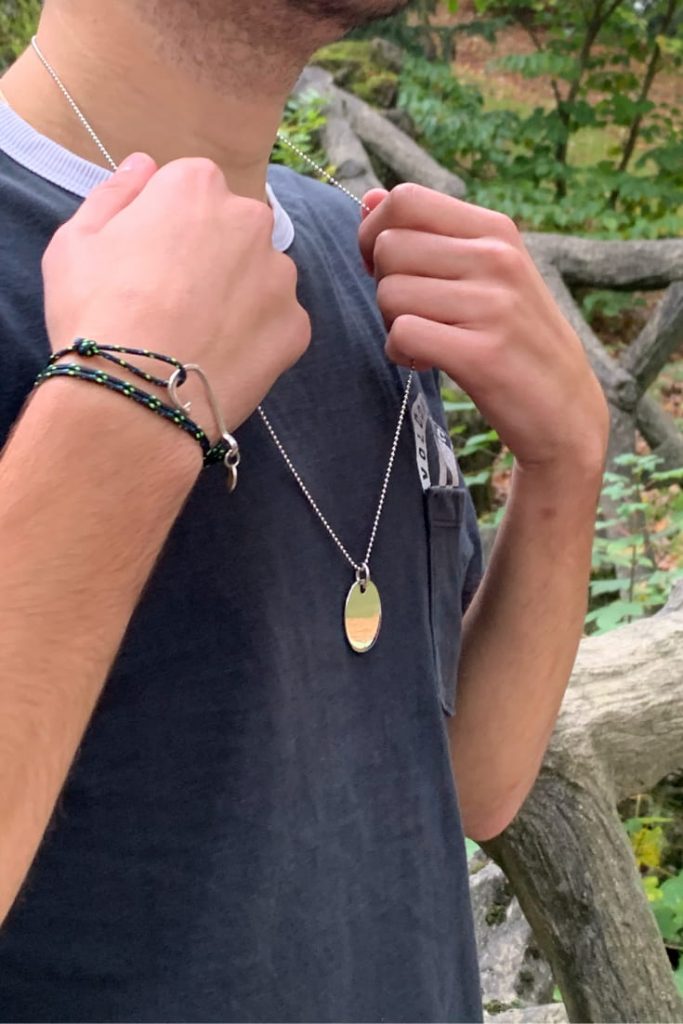 The first name necklace has become very trendy in the past few years. This trend crosses the borders of countries, and even of continents: from Belgium, France and Spain to the United States, the concept has become fashion everywhere! This article will give you inspiration about this new concept, and maybe, make you want to travel? Because writing a name on a necklace is a timeless practice that can please everyone. Engraving enables you to personalize a piece of jewelry, and thus stand out from the crowd.
You can also find out what can be engraved on a necklace by clicking here.
Indeed, a jewel is here to enhance the sides of your personality you want to show. A personalized neecklace can suit everyone, from young to elder people. They adapt to every gender, men, women and children. It is also an excellent gift idea. Giving a unique gift to a unique person is the beautiful way to say "I love you". The Belgian Brussels-based jewelry designer Artémi has a wide range of customizable necklaces. She will gladly make your first name necklace in her engraving workshop.
How to choose a personalized jewel for a man?
Nowadays, jewelry is not for women only. It is an accessory that men have totally adopted. From rope bracelets to silver cufflinks, men take great care of their outfits. Who said they aren't coquettish? Of course they enjy enhancing their outfit, accessorize it and show their glowing personality to the world. So, they deserve to be trendy with a first name necklace adapted to their personality too.
A first name necklace can take several shapes. You can choose an oval silver medallion that is versatile and adapts to the greatest number of people. It is ideal to offer to your husband or a relative such as a brother for example. If you are looking for a shorter necklace, the silver round medal necklace is more suitable since its chain is shorter. It will be more discreet and add a light touch to your outfit. For more assertive personalities, you can turn to the silver military plates with 2 plates to engrave. These personalized solid silver necklaces match many styles. Attention to detail is the secret to a great look.
On which necklace should we engrave the Belgium first name necklace of a woman we cherish?
Giving a piece of jewelry to a woman is one of the most beautiful proof of love ever. So, by offering her an engraved piece of jewelry, you will win her heart for sure and forever. Women become attached to their jewelry, so, a necklace made especially for them, they will never leave it!
Indeed, if you decide to spoil your mother with a necklace personalized with her first name, choose the one that matches her personality. If she is rather classic and a little strict, there is no doubt the silver square necklace is ideal. It will easily match all her outfits. If your mom likes to look nice and add a touch of originality, the perfect piece is the drop pendulum necklace. It will sublimate her cleavage with elegance and adapt to her different outfits. Finally, if you want to please the woman you love, the silver heart necklace will seduce her… The little extra is that you can engrave both sides of the medal. So you can for example write a short declaration of love on the back and a symbolic date on the front, more discreet. I assure you, you're going to score points!
Where to find this first name necklace?
Looking for a unique gift? Would you like to buy your first name necklace? In this case, go to the Art'emi website to choose your first name necklace made in Belgium. Artémi is a Belgian jewelry designer who has been passionate about jewelry for more than fifteen years. Driven by her love for handmade jewelry, she has created a wide range of necklaces to engrave. You choose the jewel, but also of the typography, either English or classic, according to the expected result. To be sure of the result, you can use the online preview available on the website to see the result of the engraving. Behind each necklace lies a different story. One pendant, one story, one personality.
So if you want to write your story on one of our first name necklaces, go visit our online jewelry shop. If you cannot decide on a necklace, we invite you have a look at our article: Infinitely customizable jewelry. You will discover our customizable bracelets, but also our silver cufflinks. Not to mention that delivery is free of charge everywhere in Belgium, as well as engraving.
To discover our first name necklaces, follow this link.