Braille engraving: the jewel that carries meaning and secrets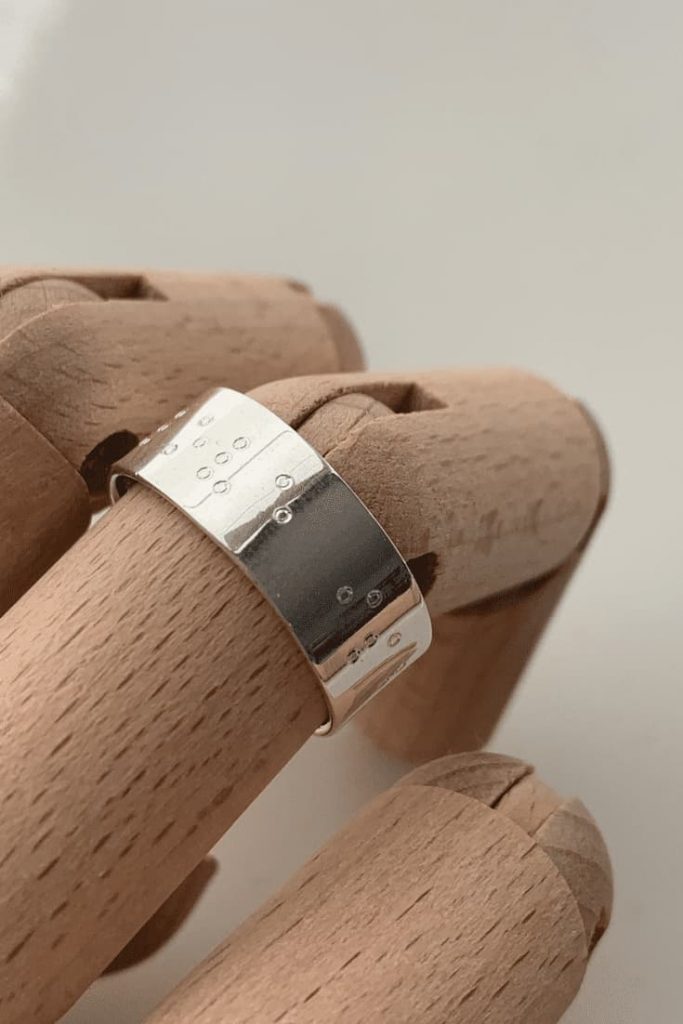 The words are wonderful and deep . They have multiple powers: that of hurting, making people laugh, healing, expressing or even interpreting. The value of words is not a scientific calculation however, only you can make it unique. This is why Art'emi combines the strength of language with the touch of its jewelry creations thanks to braille engraving.
Braille, the mysterious language
Braille language is meaningful. It contains hidden messages, even in everyday objects. It seems that you have already met him in an elevator, on a box of medicines, on a museum cartel or a door sign or even in front of a pedestrian crossing. Why not appreciate it on a personalized piece of jewelry? Therefore, a Braille engraving is none other than your secret inscribed on a solid 925 silver surface. It's up to you to choose who you want to share it with!
Braille engraving, proof of love with a capital A
Without a doubt, you will attract more than one curious person around your braille engraved ring, pendant or bracelet. This personalization, as elegant as it is intriguing, reveals something about you, whether it's for you ladies or you gentlemen. As a result, it brings you an invaluable link with your jewel while concealing a message from the eyes of all. However, the game becomes captivating, doesn't it? Inspired by language and broadcast in a tactile alphabet, Braille engraving allows you to find the words for the one you love so much. Tell him I love you in braille with an Art'emi jewel, the choices are endless.
The key to secrecy is inside the Braille engraving
There are a multitude of definitions of the secret: the one that weighs on the shoulders, the one who advances or the one helps to hijack the truth. Secrets are born at the same time as Man and never end. However, the Art'emi jewelry store wishes to bring the secret back to the tastes of the day through timeless and personalized jewelry . For women, men and children, Braille engraving combines all your secrets through a work of successful symbols on rings, bracelets, necklaces, and accessories. A priori, none will be revealed except the one in whom you have "blind" confidence.
The unique personalized jewel signed Art'emi
Personalization is ancestral know-how of Art'emi jewelry. Over the years, your jeweler takes pleasure in decorating your jewels with a date, a first name, a symbol, an astrological sign or even with drawings of your children. This is how braille engraving is gradually coming back into the rules of the art of your jewelry store and acclimating to your lifestyle. With an incomparable mastery of metals and an exceptional quality of work , the smooth phase of your jewel gradually becomes your own symbol of meaning and secrets with this magnificent braille engraving.
Upon receipt, Art'emi attaches great importance to your personalizations , because they mean a lot to you. All the details are therefore respected in the letter and it is thanks to this that the charm of Braille engraving operates. Art'emi is responsible for making your bracelet, necklace, or ring a full-fledged confection full of originality and in record time!