Your Conciergerie by La Libre in collaboration with art'emi jewelry store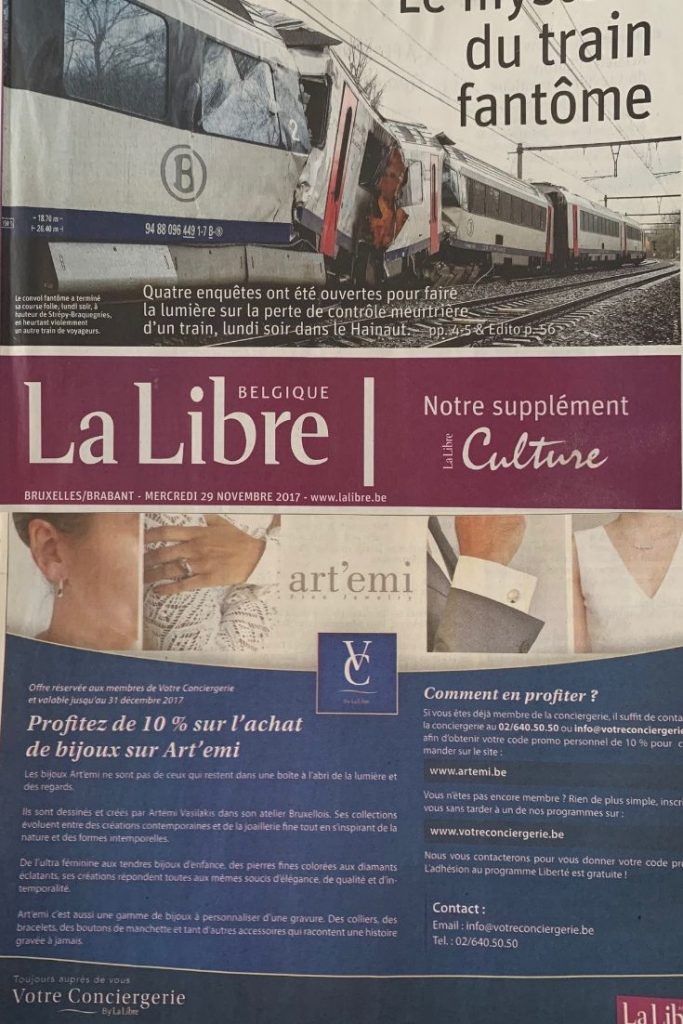 It is always believed that luxury concierge is only dedicated to wealthy clients. However, the newspaper La Libre Belgique is launching a full multi-service management offering that makes everyday tasks easier with its private concierge service. His little name? Your concierge! A common sense initiative that supports the Belgian jewelery brand artemi for 200%. Jewelery reduction warning: Throughout December, members of the Your Conciergerie platform will benefit from a 10% discount on all our online jewelery stores.
Your concierge: a personalized service for everyone
La Libre Belgique joins forces with Hospitality Management & Facility Services (HMFS). This is to offer a wide range of personal concierge services to make life easier for these customers from Monday to Friday. Through the platform, individuals, families or even seniors can find quality services anywhere in Belgium and, above all, save time. Do you undoubtedly need a housekeeper, babysitter, sports coach, babysitter or just an inventory?
All you need is a phone call or a simple email and Your Conciergerie will take the necessary steps to simplify your life. She quickly connects clients with trusted professionals and offers real support and durability to save you time.
Time savings and satisfaction guaranteed
Like the Kardashians, take advantage of the Your Conciergerie by La Libre service. It gives you the best value for money in no time and allows you to maintain a balance between private and professional life. The procedure is simple and allows you to meet carefully selected providers. In addition, an agreement and a quality charter are systematically signed by the service provider in advance. Meanwhile, the customer receives a satisfaction survey after each intervention. In short, a dedicated and benevolent service: discretion assured art'emi loves!
Corporate concierge; does that appeal to you?
Your company offers you concierge services. They want to make your professional life easier. Your well-being at work is essential, hence this proximity service for professional and private juggling. So do not hesitate to take advantage of this and, above all, delegate the management of certain tasks. These personal services are designed to prevent absenteeism. The home services offered are varied and range from laundry to babysitting.
The different subscriptions
Your concierge by La Libre offers you three partner programs:
Freedom (Free Membership): This subscription only covers housing related services. Such as babysitting, cleaning and ironing, sanitary, carpentry, etc.
Liberté + (12 € / month): it is dedicated to the organization of events. For example, book a spa or organize a birthday party. Naturally, members retain access to the services offered in the first subscription.
Liberty Premium (on request): This subscription offers long-term services. These offers are therefore complementary to the first two subscriptions. For example, request housekeeping staff with a personal service or personal assistant.
Are you unsure about your second home?
All Your Conciergerie members benefit from exclusive offers and privileges from the partner network. So if you need a butler, linen rental and more household linen for your guests … Don't hesitate to delegate your household chores. Have free time to provide for your family.
Anglo-Saxon countries are familiar with this daily service. Among other things, when they move to the French Riviera. The hotel industry is important to them, so they want their Grand Palaces to be reserved for them. He delegates management to the concierge, even for short-term rentals or seasonal rentals.
There are many second homes and yachts in the Arcachon basin. With the exclusive Platinium service. We take care of the administration, key management, cleaning, co-ownership and especially childcare.
Want to try? Know that we make a point of honor for our customer relationship and especially for loyalty. So don't hesitate to consult the site now www.votreconciergerie.be . Subscribe to the subscription of your choice on our platform. Benefit this month from a 10% discount on jewelry on your purchases in the art'emi grave shop at your luxury concierge!