The engraving baby chain bracelet : a sensational gift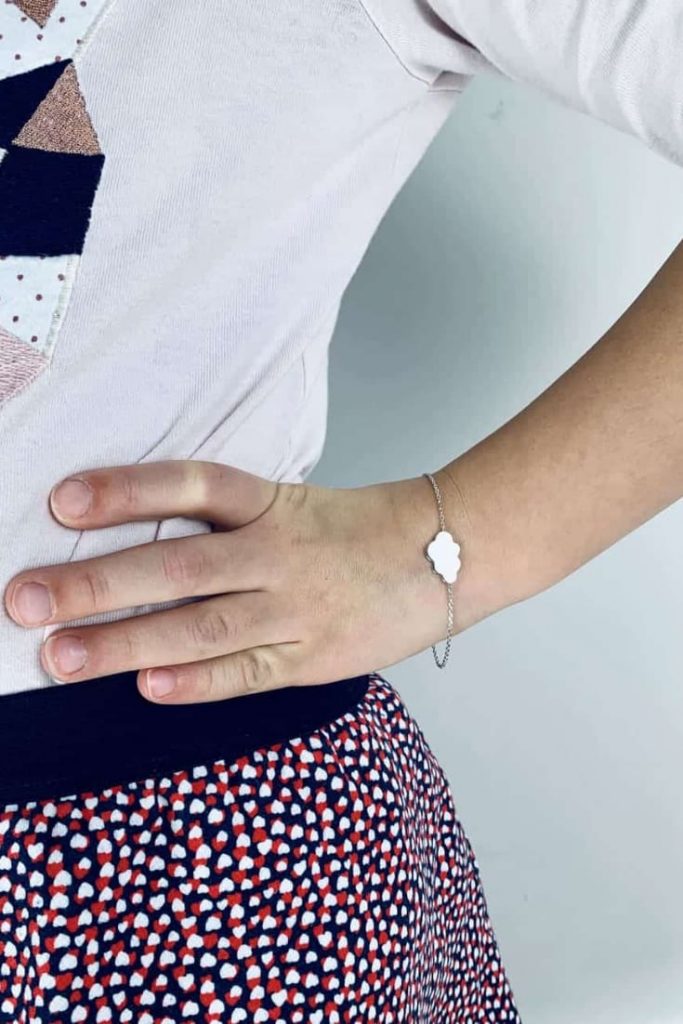 The arrival of a new princess in the family?
A newborn baby is always a wonderful gift for the family. Uncle sheds her little tear, the grandmother wants to hold the baby in her arms before everyone else and the big brother is not happy that everyone is only taking care of the newborn. Finally, the whole family brings their little gift, a bottle, a little pink pajamas (convinced, it was a girl) and you then? Want to get out of the ordinary? Change the habits of basic gifts and add your personal touch? Art'emi takes care of you! Ideas fuse in our brains and we can help you with jewelry engraving and more particularly baby chain bracelet engraving .
Here are our little ones ideas and advice for a baby chain bracelet engraving:
First of all, let's be gallant and make way for the girls. The art'emi jewelry store offers a wide range of baby bracelets . Whether with a little angel, a boat or the classic with an oval circle. You can find all children's chains bracelets to personalize on the Online Store.
Finally, for an engraving, take the angel bracelet in silver for children, this bracelet can be personalized on part of the jewel. You can write 8 characters on each side of the silver plate. Therefore, for the new lady, why not engrave his date of birth as well as geographic coordinates of his place of birth for example!
And a baby chain bracelet engraving of a little prince?
The princesses, it's seen, now let's move on to the little princes. First, we have a blog post dedicated to birth gifts for a baby boy , do not hesitate to take a little tour to get ideas!
The baby chain bracelet engraving is an adorable little gift for all the occasions in a child's life, from birth to adolescence. In order to guide you in the ideas of baby chain bracelet engraving, the art'emi jewelry store will provide you with a bunch of little tips for personalization. First, let's choose for example the boy character curb chain to engrave for a boy. The little one may need a little gem memory of his baptism , then opt for the baby chain bracelet engraving. What to have engraved on this jewel? So, is this a gift for a baptism? Note that the date is important and that, generally, baptisms are made shortly after birth. Therefore, you can choose a astrological sign on one side of the boy's pendant, and on the other side, engrave his first name .
The choices are multiple and you hold the key to the success of your jewelry.
Want to learn more about engraving children's jewelry? Visit our blog page on personalized children's jewelry in order to be able to become a designer of children's jewelry for the time of a piece of jewelry.
Customizable bracelets from art'emi jewelry store
After having seen all the ideas for baby chain bracelet engraving that the team has been able to give you; let's discover now the types of customization for each child's jewel. Indeed, all art'emi jewelry is different and has more or less space for engraving. Consider the angel, airplane, boat and horse bracelets. These jewels have a plate where you can engrave both sides. Therefore, this type of bracelet allows you to enter dates of birth, first names with a beautiful typography in italics .
Regarding the round curb chain, this one is more rounded and will require a straighter typography . However, the geographic coordinates are an ideal baby chain bracelet engraving on this jewelry. In addition, we also offer a name bracelet , ideal for classic customization. Finally, the character bracelets: more original and fun. These allow you to have more space. Indeed, you can add a symbol on the middle as well as a message as " little sweetie ".
The baby chain bracelet engraving is therefore a ideal and unique gift to do. This is why art'emi is committed to being at your disposal to help you personalize the baby chain to perfection. Details matter, your opinion matters. The jeweller's art'emi is at your service in order to best meet your expectations.